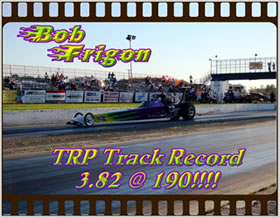 Competition Wedge Engines is a small, three-man specialty engine shop located about twenty minutes north of Syracuse, New York, in Oswego County. We are located within two-and-one-half hours of six IHRA and NHRA dragstrips, and at least six dirt and asphalt circle tracks. Additionally, we are less than 45 minutes away from "The Steel Palace," the famed Oswego Speedway.
Although we're known for specializing in Mopar engines, we do our fair share of small-block and big-block Chevys, along with some Pontiacs and Fords. Over the years our primary focus has been on the hardcore bracket racer. We are fortunate to have been a part of many track championships and track records, as well as National Championship winners. Competition Wedge Engines also has two team cars, one Pro Top Outlaw BAE blown Hemi, owned and driven by Bob Frigon; and a B/S-C/S 1970 Plymouth 'Cuda NHRA Stock Eliminator 6-Pack 4-Speed car, driven by Alan Clark.
As mentioned, much of our work is bracket racing engines, but owners have been gravitating toward dual-purpose street/strip type cars, due to increased racing costs and the high price of fuel. These dual-purpose engines allow them to engine their cars no matter what the racing schedules are. We also see the daily driver performance re-builds and full restoration type engines. We get involved in some speedway cars and road course cars and trucks.
Our goal is to provide not only a fine running engine, but an engine you can be proud of when you open the hood. Most of our customers opt for a nice PPG urethane painted engine, which really adds a little visual appeal, and makes the engines stay nice and clean. We pride ourselves in that type of work, and always try to go that little extra step to deliver a professional, neat-appearing engine.
We are not interested in pumping out dozens and dozens of engines carelessly. We are more concerned that the customer receives a well built, well thought out combination that meets his or her needs. Engine building should not be a "one size fits all" approach. Paying attention to the customer's needs, and discussing the build in advance is always what we strive to do. In the end, the customer gets what he or she deserves, and it's important for us to be proud of our product as well.
We truly believe in autographing our work with quality. With our track record, we can honestly and confidently say that our engines, parts, and components are "Competition Proven."
We look forward to your business!
Todd Tuohey
Michael Dunbar
Bryce Tuohey